How To Keep Glasses From Sliding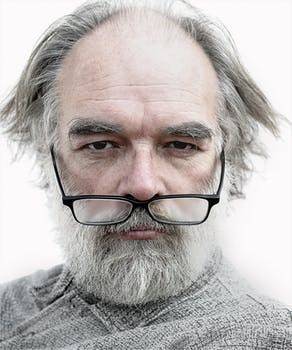 ---
Is Anything More Annoying That Sliding Glasses?
It is not only annoying for you, but from the viewer's perspective, it's not very attractive to watch either. How many times a day do you push your glasses back up? 100? 200? maybe 300 times? I think we all have better things to do. Like reading about the final solution you will ever need for this problem. Read on!
Why Do My Glasses Constantly Slide Down?
It's the law of gravity at work. The weight of the frames and lenses, even light-weight frames, can weigh several ounces. That is a lot of weight concentrated on the bridge of your nose, not only causing pain and dreaded nose dents, but this weight also causes your glasses to constantly slide down. It's something we've all had to endure...until now.
Easy Fix To Keep Your Glasses From Sliding!
Believe it or not, you can put an end to those sliding glasses once and for all, AND prevent eyeglass pressure, pain, and nose dents at the same time, with one amazing eyeglass accessory. Introducing brand new, patent-pending Bye-Bye Nose Dents eyeglass accessories.  
Just slip these accessories on the tips of your glasses, and your glasses will be gently lifted - preventing eyeglass pressure, nose dents, and it keeps your eyeglasses in place! No more sliding glasses!
You will love these fun, stylish eyeglass accessories that will make your glasses super comfortable.
How Does It Work?
When you slip these accessories onto the tips of your glasses or sunglasses, it creates a counter-balance that gently lifts your glasses off your nose which prevents the pressure that causes nose dents, marks, discomfort, and keeps your glasses from slipping.
Will It Work For Me? Try This Simple Test
Try this - gently press down on the tips of your earpieces (behind your ears). Does this raise your glasses off your nose? If so, you should notice how comfortable that gentle lift makes your glasses. Plus, notice how that counterbalance will make it virtually impossible for your glasses to slide. Problem solved!
Don't go another minute with glasses that hurt your nose or constantly slide down. Order yours now!
---
---
---
Brilliant Invention!
... such a simple idea to weigh the [eyeglass] arms down but it makes such a huge difference...
Unbelievable!
...unbelievable how this little feature can lift the glasses just enough so they float across the bridge of your nose...
Speechless!
...10 years I have searched for a solution...your "socks" are the answer!
---
The weighted accessories slip onto the tips of your eyeglass earpieces/temples and create a counterbalance that gently lifts glasses off your nose, preventing nose dents, red marks, and keeps your glasses from sliding down your nose.
Try this - press down on the tips of your eyeglass earpieces (behind your ears). Does this lift your glasses off your nose? Notice the eyeglass pressure is gone. Notice how your glasses won't slide down. Eyeglass problems solved. This is what Bye-Bye Nose Dents will do for you.
How does it attach to glasses?
They are very easy to attach. Just slip on to the tips of the earpieces.
Can't decide which product to buy?
All of the products easily slip onto the tips of your eyeglass earpieces creating a counterbalance that lifts your glasses off your nose preventing nose dents, red marks, and keeps your glasses from slding down.
There are 3 categories:
Will it slip off my glasses?
For most glasses it is very secure and will stay on until you remove it.
Which weight do I choose?
For best results, use the lightest weight that will lift your glasses. If the weight is too heavy, it will lift your glasses too high. If it is not heavy enough, it will not lift your glasses.
The kits with multiple weights are highly recommended - this is a great value and allows you to find the best counterbalance for your glasses and provides accessories for multiple glasses.
1/4 oz - Lightest weight for ultra-light glasses, i.e. titanium. This weight is available in Cozy Socks, Cozy Socks Retainer, and Weighted Connectors.
1/2 oz - This is the standard weight and works for most light to standard/regular weight glasses. This is the most popular size.
3/4 oz - For heavy glasses only.
Can I use it on multiple glasses?
You can, but It is recommended to leave on one pair of glasses to maintain a snug fit and and reduce stretching of both the material and rubber connectors/bands.
Clean with soap and water as needed. Air dry.
Will the weight hurt my ears?
Most have no problem adjusting to the weight. For the small percent who experience some ear discomfort, there are two solutions: take a short break from the weights when needed and your ears will quickly acclimate over a few days, or use Ear Cushions.
You will be amazed how comfortable your glasses are when gently lifted off your nose.
What if my earpieces are short?
You can return for any reason within 30 days of receipt.
How do I contact Bye-Bye Nose Dents?
---
Say good bye to pain and discomfort, and hello to comfortable glasses when you use 'Bye-Bye Nose Dents' Eyeglass Accessories. Visit https://byebyenosedents.com to learn more,
---