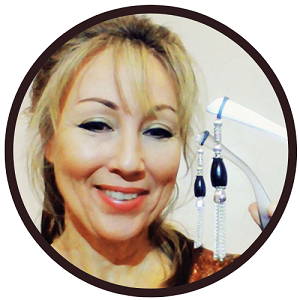 Hello. I am Sherry Sandt, inventor of Bye-Bye Nose Dents™ patented eyeglass accessories. I probably have a lot in common with you. For years I was frustrated with glasses that hurt my nose and left huge dents and marks and tired of glasses that would constantly slip down. I was always on the search for the lightest glasses, regardless of the cost, to avoid this, but nothing worked, even after countless pairs of glasses with countless adjustments.
Eventually, I spent way too much money on a pair of light-weight glasses that felt comfortable in the store. But after about 30 minutes, they hurt my nose and caused nose dents. Fortunately, the store wouldn't let me return them. I say fortunately, because although I was not happy at the time, this gave me the determination and desire to find a solution for uncomfortable glasses.  
I was on a mission for everyone who struggles with uncomfortable glasses. After many iterations, and with Divine Intervention, I discovered that a counterweight placed on the eyeglass arm could effectively reduce the pressure from your nose and cheeks, and it keeps your glasses from slipping. This was the beginning of iLiftz™ Cozy Socks – weighted socks that slip onto your eyeglass arms and instantly reduce eyeglass pressure.
It has been my honor and privilege to help thousands of people have more comfortable glasses. From customers who struggle with a sensitive nose or heavy glasses, to older customers whose fragile skin tears from the weight of glasses, to low-vision and blind customers whose very heavy prescriptions are so painful on their nose, to those recovering from nose surgery or nose trauma but still need to wear their glasses to work and drive.
I would love for everyone to know they don't have to live with painful glasses, and they do not need to spend a fortune to have comfortable glasses. We put the utmost care and quality into every piece that is crafted and designed, which is right here in the USA. We hope that you love Bye-Bye Nose Dents as much as we do. We will continue our mission to make glasses more comfortable, one frame at a time.   Give it try and we would love to hear what you think.  
---
PO BOX 1434, FLOWERY BRANCH, GA 30542
---
All products manufactured and assembled in the USA.
All products shipped from USA.
---